Could you be the one for us?
With our progressive culture and supportive teams, Smith Partnership is a great place to work. Add to this the fact that we are a leading law firm dealing with a wide range of diverse, complex and interesting cases and joining us becomes even more appealing.
Current Vacancies
Here are our current vacancies. Select an opportunity to read the full job description. To apply, please complete the form and attach your CV.
Smith Partnership request that recruitment agencies do not speculatively submit CVs to us unless explicitly asked to do so by our HR team.

Any CVs sent to us on a speculative basis will not be recognised and we will not accept liability for any fee or commission should we subsequently employ a candidate who applied to us directly or was introduced by another agency, that may also have been submitted speculatively by an uninstructed agency.

In the event that an agency's correspondence includes a disclaimer indicating otherwise, our policy above will prevail.
Why should you work with us?
Our 230 staff are employed across our East Midlands offices, with the most at our Derby head office. We pride ourselves on our straight-forward, jargon free approach when dealing with clients and their cases and this approach also defines our workplace culture which is welcoming, friendly and committed to excellence. We have been recognised for our commitment to developing and supporting our staff. In fact, from the initial induction into the business, every member of staff embarks on a personal development plan with the aim of helping them to reach their full potential.
Couldn't find an open opportunity?
We'd still love to hear from you if you believe you could be a valuable addition to our team.
Don't take our word for it. See what our experts say about working at Smith Partnership
With plenty of opportunity for growth, Smith Partnership is an exciting and dynamic place to work.
Smith Partnership is a great company to work for. I feel every member of staff, whatever their position within the firm, is approachable and welcoming. I have been with the firm less than 6 months and already feel like a valued member of my team and the company as a whole. My role has given me some great opportunities so far and I feel that will continue. Added to that, we are lucky enough to work in a clean, modern office right in the heart of the city centre.
- Employee, Smith Partnership
…the firm continues to 'grow its own' people wherever possible continuing with apprenticeships and its work in the local community.
- [Extract taken from Smith Partnership's 2023 Lexcel audit]
Support for home and work life balance is excellent, resulting in people feeling well supported and helped to balance their home and work lives. People felt valued and 'you're not just a number here'. Many people felt the firm was like a family and many stated they looked forward to coming to work.
- [Extract taken from Smith Partnership's 2022 Lexcel audit]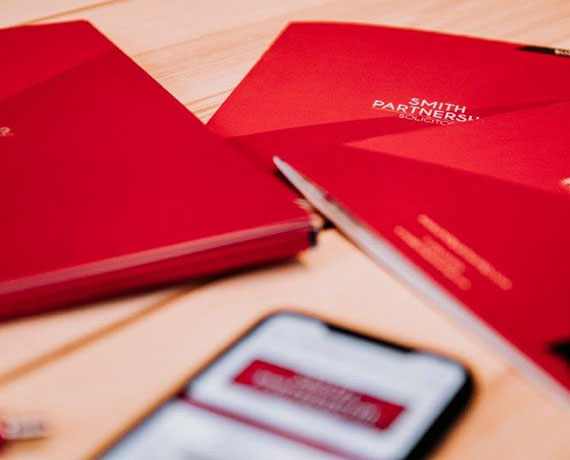 Work Experience
While we appreciate that workplace experience is the best way to kick-start your career, regrettably due to data protection and client confidentially, something we take very seriously, we are unable to offer any form of work experience, vacation schemes, seasonal or voluntary placements at any of our offices.